DRAWING GUIDELINES
Firstly, make sure that your project fits within the machine bed boundaries of 900 x 600mm.
We recommend that you leave at least 5mm around the outside of your project within the boundary lines. Everything needs to be in millimetres (mm) and drawn to the exact scale you require.
We prefer Adobe Illustrator files (.ai) but we also accept PDF. DXF or EPS. Image files to be engraved can be sent to us in .bmp .jpeg, .tiff or .png files.
Laser Cutting Strokes

The laser will cut along the vector line of your project to create a cut out shape. When cutting make sure that the shapes are at least the thickness of the material i.e. a rectangle cut from 3mm plywood should be no less then 3mm. This is to allow for the kerf of the laser that will remove material from both sides of the shape.
Nesting: If you are placing a lot of parts of your within one bed template make sure that there is a 2mm gap between each part.
Small Parts: If you are cutting small parts draw them no smaller than the thickness of the material you are using.
Nesting Example: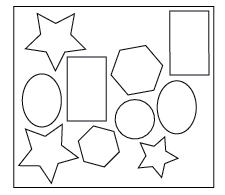 For all parts that you wish to have laser cut:

Line Colour: Black
Line weight: 0.005pt

Vector Engraving Lines

Vector line engraving works in a similar way to cutting, but instead of slicing right through the material, the laser just marks the surface. The laser will trace along the engraving line you draw in your design package. There are three different strengths available: light, medium and heavy – with corresponding depth and darkness. All three are very thin – approximately the width of the laser's beam.
Please advise us of how heavy you would like your vector engraving lines. As standard we use medium line depth and darkness. To mark the surface of the material with vector strokes make sure they are in:
Vector Line Depth – Light
Line Colour: Green
Line weight: 0.005pt

Vector Line Depth – Medium
Line Colour: Blue
Line weight: 0.005pt

Vector Line Depth – Heavy
Line Colour: Red
Line weight: 0.005pt

Raster Fill Engraving

To raster engrave, the piece must be indicated using the fill colours as indicated below. If you require a thin engraving line then we recommend that you use vector line engraving not raster fill engraving. The strength of the raster engraving ranges from black as the heaviest, down to very pale grey, which is the lightest. To get the best results and to give your raster engraving a defined edge combine it with a vector engraving line around the outside edge of the piece.
Raster Engraving Depth – Light
Fill Colour: Light Grey
Line Weight: No Colour

Raster Engraving Depth – Medium
Fill Colour: Dark Grey
Line Weight: No Colour

Raster Engraving Depth – Heavy
Fill Colour: Black
Line Weight: No Colour

Laser Engraving/Cutting Text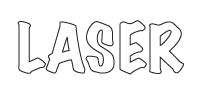 All text needs to be converted to an outline in order to be read by the laser software. By doing this the laser will follow the line of the text in the same way as a drawn vector line. To convert text to an outline, firstly select your text. Then click on Type > Create Outlines from the top menu. You won't be able to edit the text once you've done this, so do it last after you have spell checked.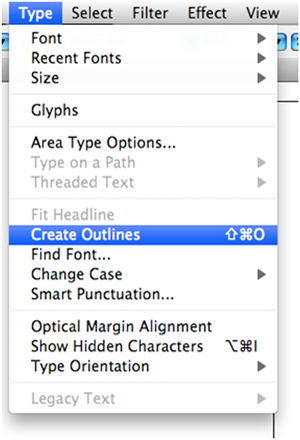 You can laser text using cutting strokes, vector line engrave and raster fill engrave.
Image Engraving

Images need to have a high level of contrast to engrave well.
The image must be at least 300dpi.
Please ensure they are in Grayscale and are saved as a Windows 1Bit.BMP file.
Colour images can be edited in Photoshop: –
To change a colour image ready to be lasered follow these steps: –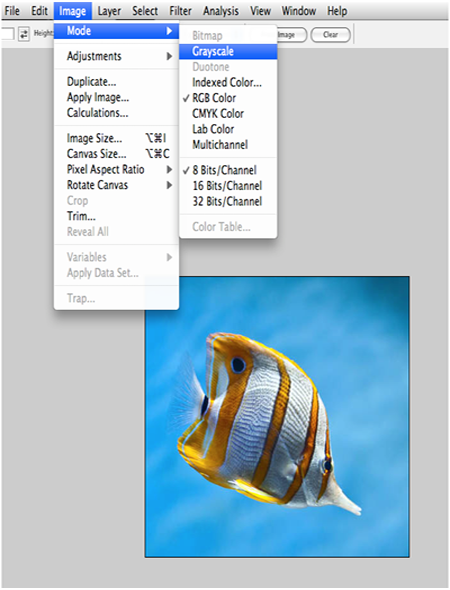 Discard colour information.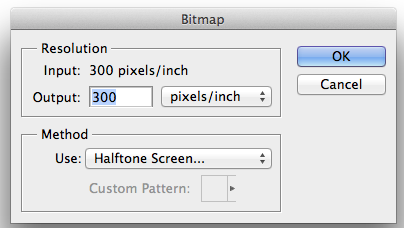 Output must read 300dpi – Note – better results also come from Input being 300dpi
Method: Halftone Screen
Shape: Round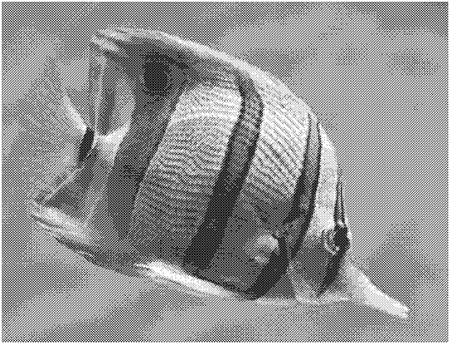 The image should look similar to the one above.
Save the image from Photoshop as a Windows 1Bit.BMP image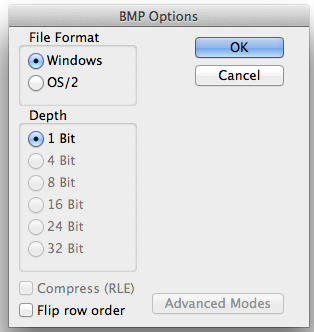 Exporting Files

We prefer .ai files (Adobe Illustrator) but also accept PDF. DXF or EPS. For image files we prefer .bmp files but they can also be sent to us in .jpeg, or .png files.
For saving in Adobe Illustrator:
Please note where the red circles highlight. The documents must be saved as a CS2 file and the Use Compression option must be un-ticked.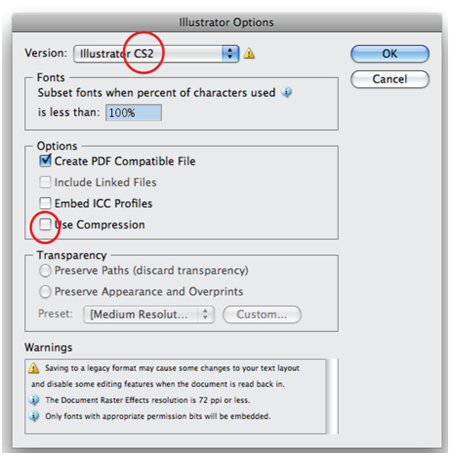 If you wish to save your project as a DXF file, then go to File, Export, choose Autocad Interchange File (DXF)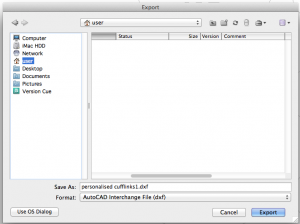 Once chosen, use the settings as shown below: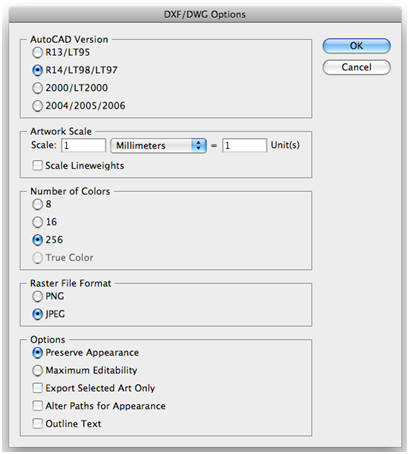 AutoCad & Vector Works Software

AutoCad
If you have created your project in Autocad, please follow the instructions below: –
Select Format > Units > Type: architectural / Units mm

Draw a referance rectangle at 1:1 scale to match the size of the material in mm

Makes sure your reference rectangle is in on the 0 layer, so it will not be cut or scored or engraved

Offset a 5mm border from the sheet size of the material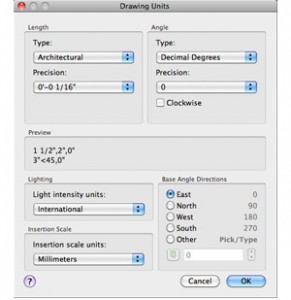 Draw all components at a scale of 1 unit = 1mm
If adapting architectural drawings from a real scale, they will most likely dwarf the reference border rectangle. You'll need to scale the drawing down via the correct scale factor.
To do this:
Find the scale factor of your drawing using the following equation:
1 / Drawing print scale x Unit conversion factor = Scale factor
You will get a decimal number.
Select all the elements of the drawing you want to scale and activate the scale command

Select the base point and drag cursor to the right to select all of your drawing

Enter the decimal number you just calculated
You will most likely need to search for the scaled down drawings on your screen . Once you have found them, place within the reference rectangle.
IMPORTANT – Clean Up

Before sending over your files to us double check that you do not have any double lines and that shapes are not over lapping. Double lines will result in the laser going over the line path twice which can melt and distort the material. You should be able to see a double line, as they will appear a darker colour than your other cutting lines
To remove double lines, select them using the 'Direct select' tool, then hit delete once or twice. This should leave behind another line, paler than the one you had. By removing double lines you'll achieve a better result.
Please note – Cleaning up files whilst in the studio will eat into your laser time. We recommend that your file is checked before your appointment slot. If we are cutting the job on your behalf we will inform you if a document requires clean up. If we do have to perform clean up for your project be cut/engraved there will be a charge of £15.00 per hour.
Saving File – Double Check

When saving your documents ready to upload or put onto a pen drive, please follow the instructions below:
Make sure that the file fits within the bed boundaries of 900x600mm
All vector lines weight are 0.005mm
For laser cut and vector line engraved files they are saved as an .ai, writeable PDF or .dxf file
For raster engraved files they are saved as a .bmp, .jpeg. or .png file.
Files are given a unique name that includes your surname i.e. Thorp_Bangle_1.ai-